Getting to BIKETOWN Munich
Good connection via inner-city road network through the middle ring and the outer ring as well as direct connection to the A99 motorway in the direction of Stuttgart or Nuremberg/Salzburg, Passau and Lindau, Garmisch.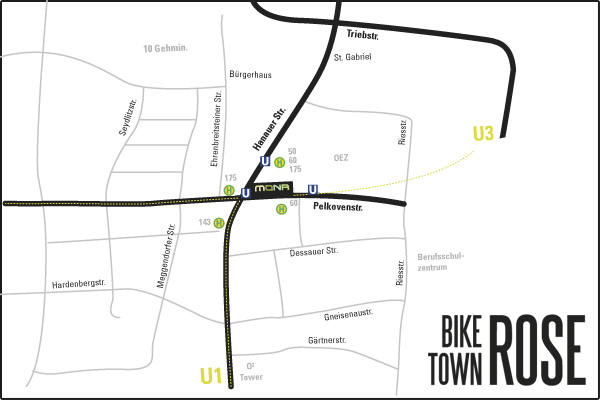 ROSE BIKETOWN Munich - in the MONA shopping centre – Pelkovenstraße 143 – 80992 Munich




PARKING IN THE MONA

You can get to the parking spaces on 3 parking levels via the entrance on Pelkovenstraße.


PUBLIC TRANSPORT – MMV
Underground Station:
U1 Mangfallplatz - Olympia Einkaufszentrum (terminus)
U3 Moosach station - via Olympia-Einkaufszentrum

S-Bahn Station:
S1 Moosach station – change to U3 – only two stops to Olympia shopping centre
4 Bus stops directly at or near the centre:
Linie 175 Ludwigsfeld - Olympia-Einkaufszentrum
Linie 143 Riesenburgstraße - Olympia-Einkaufszentrum
Linie 60 Dülferstraße - Olympia Einkaufszentrum
Linie 50 Olympia-Einkaufszentrum - Johanneskirchen Bf.
Download MVV maps:
Print
'load map