Willingen
Willinger Bike World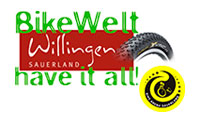 Contact
Tourist information
in the Willingen visitor centre

Am Hagen 10
34508 Willingen
Tel. +49 (0)5632 40 11 80
Fax: +49 (0)5632 40 11 50
www.biken-willingen.de
The Hochsauerland around Willingen is a dream area for bikers. Discover beautiful nature on 250 kilometres of signposted mountain bike tracks or explore the 3-lakes route or the Hochsauerland route on a race cycle.

In collaboration with the Willinger Bike World we have prepared attractive cycling packages for individual bike holidays in Willingen.

Benefit from our special offers for ROSE customers.
Print
'load map